One of the major "big-picture" decisions you will make during the pool design process is selecting the shape. This forms the basic outline of your pool and can be modified to accommodate various water features or outdoor living elements. There are many different options for pool shapes. At Pools by Design, we will discuss all aspects of your custom pool design with you, from the shape down to the smallest details. This helps ensure you absolutely love the final result.
What to Consider When Choosing a Pool Shape
When selecting a pool shape, it is helpful to consider the general layout of your backyard. If there are any landscaping elements that you want, these should be able to integrate with the shape of your pool. The shape and style should also complement the aesthetic of your home. For example, a contemporary pool shape will fit best with modern architecture. Additionally, size and depth are generally discussed at the same time as the shape and all of these should be selected with attention to who will be using the pool and their swimming ability.
Overview of Our Pool Shapes
Our pool building company uses a set of different pool shapes as a starting point for our designs. You can use this list to get an idea of your options, although it is by no means the limit of what we can do. We can modify the shape so your pool's contours will accommodate any other features that you wish to incorporate into your design.
How Our Pool Shapes Look When Complete
To help visualize how these different shapes look when the swimming pool is finished, here are some examples from our portfolio:
This rectangular pool is an example of the Montenegro shape and is proof that even a simple shape can be visually stunning. A variety of features are present including fountains, fire, LED lights, and a spa. These create pops of color and contrast within the rectangular shape.
Our Madrid shape uses sharp angles to create a contemporary aesthetic. Pool tiles visually accent different elements and the lighter-colored coping outlines the entire pool so it stands out from the deck. The spillover spa and scuppers add a contrast of height within the design.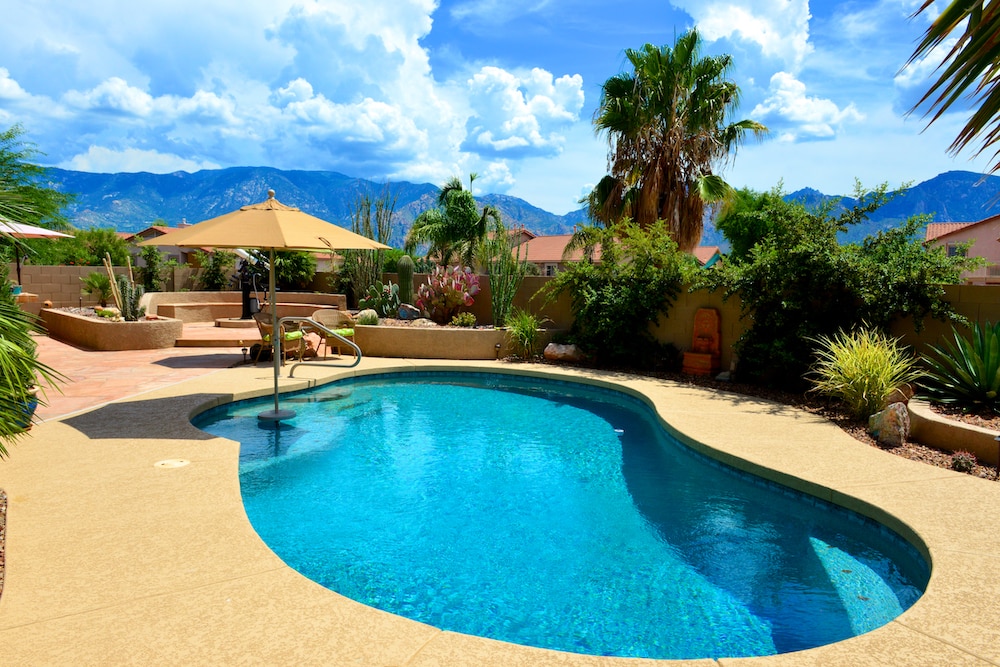 This traditional pool uses the Marseille shape, which is a kidney-shaped pool with an additional "bubble" on one side. In this case, that space accommodates a sun shelf and pool umbrella. Kidney pools are a popular choice because of their gently flowing design.
The freeform shape of this pool is a perfect example of how we can adjust the specific shape to match your needs and desires. It is similar to the Tuscany shape and contains multiple curves with rocks that accent the unique shape.
Build Your Dream Pool
When you work with Pools by Design, you are not confined to a set of cookie-cutter pool shapes and styles. We give you ideas for how to start and what you can include and then work from there to create a truly one-of-a-kind design that you will love.
To learn more about building a pool in Tucson, AZ, contact us today.