Imagine your dream pool. Chances are that you're picturing more than just the pool area itself. The outdoor living spaces around your pool also have a big impact on the look and feel of your backyard. The possibilities for what to include in the poolside area are nearly endless and you can customize your yard to fit your desired aesthetic.
Below are some ideas from our design portfolio to get you started in your planning:
Fire Pits
Relaxing by a fire pit is a great way to spend cool fall and winter nights. Even when the swimming season is over, you can still enjoy your pool area.
Stone Fire Pit With Native Plants
This fire pit fits in perfectly with the landscape, which features native plants and landscaping rocks. The addition of the stone tiles creates a dedicated area for enjoying the warmth of the fire and a view of gorgeous Arizona sunsets.
Blue Glass Fire Pit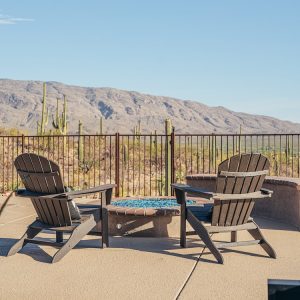 Blue glass helps this fire pit stand out and adds visual contrast to the design. We use this glass for many of our fire features. This particular fire pit is right next to the pool, making it easy to transition from swimming to lounging.
Fire Pit With Built-In Seating Area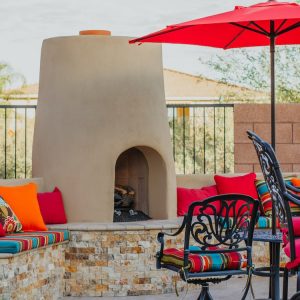 For this design, the fire pit has a built-in seating area around it, plus another table with chairs nearby. This is a perfect set-up for a night by the pool with friends and family. The natural stone tiles contrast beautifully with the bold and colorful pillows and cushions.
Outdoor Kitchens/BBQ Islands
An outdoor kitchen makes it easy to prepare food outside. Whether you're hosting a party or just want to try something different for dinner, you can kick back and relax in a beautiful poolside space.
Stone Grill Island with Storage Space
This BBQ grill has a stone island around it and features drawers for storage. These make it easy to keep all necessary grilling supplies accessible without any clutter. The neutral colors of the stone tiles pair beautifully with the blue tiles around the edge of the pool. There is a seating area behind the bar as well as to the side of it so everyone has plenty of room.
Outdoor Kitchen and Dining Area
This grill island has a sink for easy clean-up and food prep. There are also two options for seating, either at the bar or the nearby table. The set-up is perfect for hosting and looks gorgeous and modern.
Seating Areas
Having an area to lounge by the pool is important. You don't necessarily need to have a fire pit, kitchen, or other feature in this space for it to be a beautiful place for relaxation. We will design your pool deck to leave room for a seating area that matches your preferences.
Elevated Lounge Area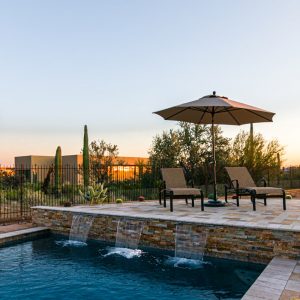 This seating area is situated above the pool. The contrast in elevation adds variation to the design. Adding water features to the ledge further accents this area.
Clean and Green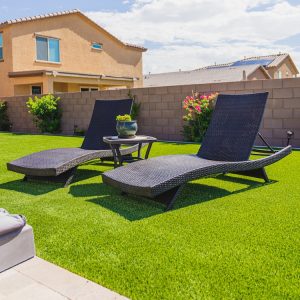 Artificial grass can be a great way to add a pop of green to your yard, even in Arizona. There's no maintenance and your seating area will look lush and welcoming year-round. For this design, there is artificial grass around the pool area, contrasted with stone tiles, and assorted furniture for lounging.
Design Your Perfect Backyard
The photos in this article give an idea of just how varied our designs can be. From your pool to the area surrounding it, we pay attention to every detail and create a backyard you will be proud to show off.
Contact us today and take the first step towards your ideal outdoor living space.